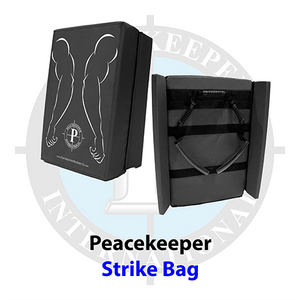 Peacekeeper Convertible Strike Bag
Item #: 43000
Regular price $249.00 Sale
Strike Shields are prevalent teaching aides in law enforcement impact training, yet most agencies are disappointed with the durability and protection that most Strike Shields offer.
The Convertible Strike Shield by Peacekeeper Products International is the only Strike Shield made of Ballistic Nylon for exceptional durability. The inner core has been designed with a multi-layer composite material for exceptional comfort and absorption from full impact strikes whether from punches, kicks, or any impact weapon. The ambidextrous Roman shield configuration on the rear panel creates maximum control with minimal effort. The molded rubber handles allow for quick reaction to impact strikes from nearly any direction.
The "Convertible" design allows you to purchase one style strike shield for all of your impact training needs. The removable Safety Side Panels are ideal to protect elbows during impact weapon training, yet they can be easily removed when performing kicks or punches.
Our Peacekeeper Strike Shields are big sellers, especially for those that have used them in our baton training course. As you may know, our Peacekeeper Baton hits hard, and nobody wants to stand behind a competitors strike shield when utilizing the Peacekeeper Baton, so we've developed our own.
All Peacekeeper Strike Shields are made in the USA for superior quality.
Please allow up to 30 business days to ship this product.
 U.S. Patent Number D932,576